Preparation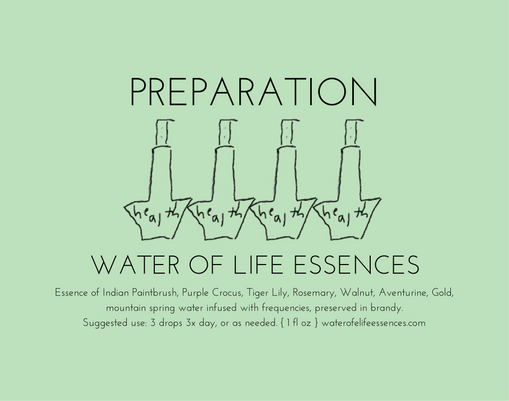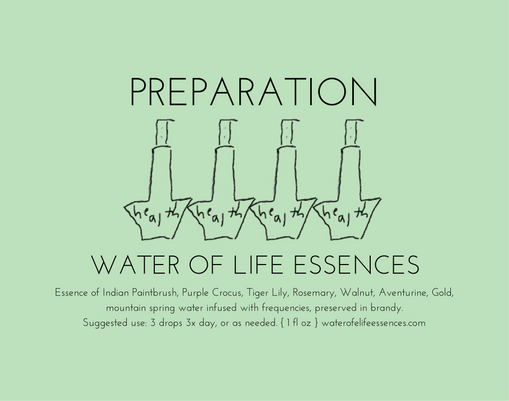 Preparation
Supports potential and the creation in physical form. Offers protection and perseverance to create and manifest according to one's passion and creative expression, true identity and purpose, with self-confidence and self-reliance. Supports stability and grace in metamorphic change, staying focused in physical grounded realms with balanced self-expression.
Essence of Indian Paintbrush, Purple Crocus, Tiger Lily, Rosemary, Walnut, Aventurine, Gold
Preparation formula features
Indian Paintbrush
Lively, energetic creativity, inspiration, manifestation, spiritual opening, helps artists with qualitative expression of their art, connect to creative potential in physical world.
Purple Crocus
Protection, self-reliance, positive bonding with self and others, wholeness, prepares the creative space for bringing forth something new, differentiation and discernment, individuation and becoming one's self, taking responsibility for one's life.
Rosemary
Mental clarity, concentration, focus, supports staying on track with work at hand, feel warm and secure in self, supports incarnation into the body fully, supports being present, grounded and here for one's purpose.
Tiger Lily
Creative energy, balanced self-expression, connects one to their passion and power to create, supports putting oneself into the world, showing one's true color, ability to manifest one's life dream, aliveness and joy.
Walnut
Freedom from limiting influences, courage to follow one's own path, metamorphic chance, transformation, unwavering inner sec of purpose and conviction, constancy and protection from outside influences.
Aventurine
Supports stability during expansion, grace in new experiences, stamina and perseverance, strengthens central vertical axis, supports potential, possibilities and choices.
Gold
Uplifting, energizing, supports expression of truest self, tapping into joy and wisdom as source of creative power, boosts self-esteem and confidence, manifesting wants and needs into physical reality.
Mountain Spring Water infused with Frequency Specific Microcurrents
Supports healing and tone of the vagus nerve, vitality, balances emotions in each organ system and energy center, restores joy and ease.