Action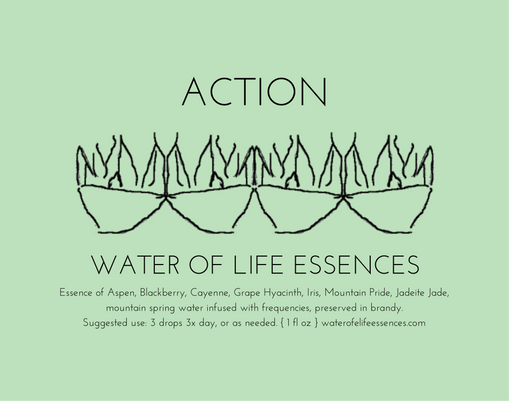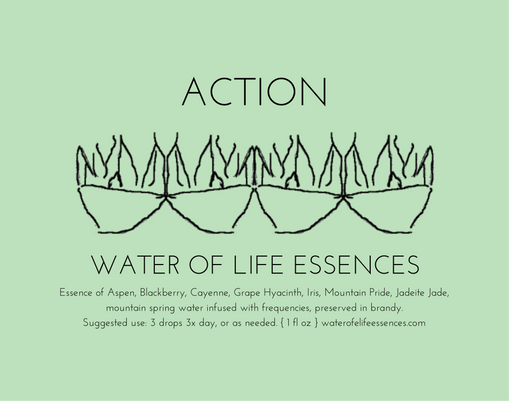 Action
Supports exuberant, clear expression of one's true voice, concrete sustained decisive action in alignment with one's own creative expression and greater forces of truth, inspired artistry, connection to others, confident and centered in the face of transformation and the unknown.
Essence of Aspen, Blackberry, Cayenne, Grape Hyacinth, Iris, Mountain Pride, Jadeite Jade
Action formula features
Aspen
Trust and confidence to meet the unknown, drawing on inner strength, calms and harmonizes the conscious mind to receive and process information, protects from fear.
Blackberry
Decisive action, exuberant manifestation in the world, supports manifesting and executing one's goals, brings energy down from the head to the rest of one's body, translates ideas and intention into concrete action, mobility.
Cayenne
Fiery and energetic, supports change and transformation, breakthrough, decisive action, motivation, overcome blocks to progress, ignites oneself with their own fiery essence.
Grape Hyacinth
Clear expression of one's voice, communication, speak one's truth from the heart, connect with others through creative energy and expression.
Iris
Inspired artistry, deep soulfulness, luminosity, restore and revitalize the soul, bring passion and creativity to life's work, create and cultivate beauty within oneself and the world, support for the healing process, alive and vibrant.
Mountain Pride
Forthright energy, spiritual warrior, positive peaceful action, soul compelled to take a stand for the world aligning one's own personal identity with forces of goodness and truth.
Jadeite Jade
Peace, balance, simplicity, centered in the moment, accepting of one's true essence.
Mountain Spring Water infused with Frequency Specific Microcurrents
Supports healing and tone of the vagus nerve, vitality, balances emotions in each organ system and energy center, restores joy and ease.